Painters & Decorators Edinburgh, Lothians and Fife
Recommended Decorators was founded in 1996 by Mr William Weir who spotted a niche in the marketplace for creating a high-quality painting and decorating company that offered great service. The business has always focused on very high standards and service delivery.
We genuinely believe in producing a standard of work that we are proud of and our customers will be elated with. We aren't just another painting and decorating company…we are unique in our approach and the service we provide. We are approachable, contactable, some say likeable, but most of all we are reliable. We offer a year's guarantee on all our works to give customers peace of mind. We don't profess to be the lowest cost option, however, quality wise we are second to none.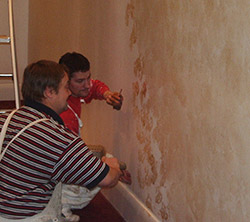 Recommended Decorators' Employees
All our employees are qualified and time served painters and decorators with over 100 years of combined painting experience and we have an in-house training programme for apprentices.
Recommended Decorators' Guarantee
At Recommended Decorators, we are proud of the work that we do. We have high standards and all work is thoroughly checked by the business owner Willie Weir before it is passed. Once all work has been passed by both Willie and the Client, there is a one year guarantee on the work.
If within one calendar year of completion of the works that there is an issue with any of the painting and decorating works, Recommended Decorators will come back free of charge and rectify the works.